WIDOPERL
The WIDOPERL Polymer lightweight screed is a quick-setting, levelling and equalising compound which quickly becomes walkable, for all irregular and uneven surfaces. Because of its low weight of approx. 340 kg/m³, it may also be used for filling structural components with critical static properties. The lightweight screed can be applied down to 0,25mm (grain size).
WIDOPERL Polymer lightweight screed is made of foamed, recycled expanded glass, of grain size 0,25 – 0,50 mm and a binder. The WIDOPERL pellets are mixed carefully with the 1-component WIDOPAN binder and placed between setting jigs, horizontally or on a slope. The main areas for outdoor applications are flat roofs, balconies, terraces, walkways, surfaces used by vehicles, etc. Here, major irregularities or zones with conflicting gradients are levelled. WIDOPERL has approx. 3.8 N/mm² compressive strength. Special mixes may be used for lower loadings.
Indoors, uneven surfaces can be levelled and cavities can be filled. The areas filled are pressure-resistant and low in weight, have good thermal insulation and improve impact noise values.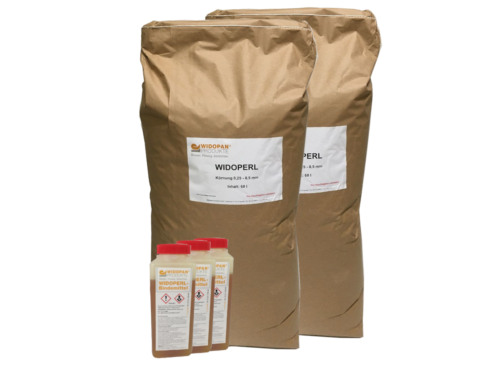 Main products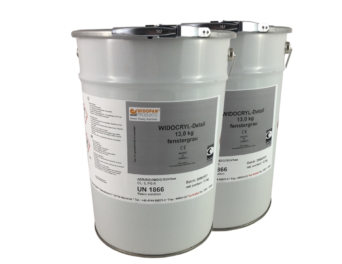 WIDOCRYL-Detail